Lionel Messi moved brilliance to another level as he was presented with the Ballon d'Or for the fifth time in his extraordinary career. The greatest player of this generation was recognized by international captains, managers and journalists for his outstanding performances during 2015, when Barcelona became the first team to complete the treble of league, cup and Champions League for the second time.
Messi's performances were, at times, mesmerising and his highlights from the past 12 months include his goal against Bayern Munich in the Champions League semi-final, when he chipped Manuel Neuer from six yards, and his solo run against Athletic Bilbao in the Copa del Rey final.
That goal was a contender for the Puskas Award, which is given to mark the previous year's golden goal, but on this occasion, Messi had to settle for minor honours. Wendell Lira, a Brazilian forward, won it for his spectacular overhead kick for Goianesia.
Still, he arrived in Zurich on Monday at the peak of his powers, which was a stark contrast to 12 months ago when he was sullen amid intense speculation that all was not well behind the scenes at the Nou Camp after Messi had been dropped for a game against Real Sociedad.
His numbers since, though, have been stunning, with 53 appearances for Barcelona over the calendar year yielding 48 goals and 23 assists. Cristiano Ronaldo, his great foe, may have outscored him – 54 in 52 games for Real Madrid – but Messi's form has been on another level. Those figures would have been even greater had a hamstring injury not cost him two months.
'It is a very special moment for me to be back on this stage having watched Cristiano (Ronaldo) win it for the last two years,' said Messi, who was clearly overcome when presented with the award in Zurich's Kongresshaus.
'It is incredible that it is my fifth Ballon d'Or, it is more than anything I could have dreamed of when I was a kid. I want to thank all my team-mates as without them none of this would be possible. I also want to thank football for everything, both the good and the bad. It has made me learn.'
There is undoubtedly a degree of ostentation to the Ballon d'Or ceremony, which is growing bigger by the year, but that should not detract from how remarkable Messi has been over the past decade. He has been first or second every year since 2008.
To put this into context, luminaries such as Zinedine Zidane, Ronaldinho and Luis Figo only won the Ballon d'Or once and it is difficult to imagine a time in the future when his figure is eclipsed. Certainly, his compatriot Ezequiel Lavazzi, the Paris Saint-Germain forward, thinks that will be impossible as he envisages more success for Messi.
ARTICLE & PICTURES CREDITS: LATINPOST.COM
---
Ballon d'Or 2017 Predictions – Ronaldo or Messi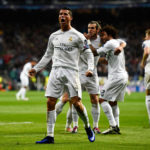 A  few months back, Lionel Messi was the king of the world. The superstar, who has just won his fifth Ballon d'Or, looked prime to repeat the feat for a record sixth time in a year's time as Barcelona ran around unimpeded in both domestic and continental play. But as of this writing, Messi is no longer a sure-fire lock to claim the trophy that he has dominated more than any other player. In fact, someone who was out of the conversation altogether has reclaimed the spot as the runaway favorite to win it.
Ronaldo shoots down the critics
Cristiano Ronaldo's form to end 2015 was far from pristine with the superstar constantly called out for failing to scoring in big games. Prior to a Champions League tilt with Roma in the round of 16, the superstar was vicious with pundits who asked why he struggled to score on the road.
Ronaldo was in decline.
Now he is the Ballon d'Or front-runner, miles ahead of Lionel Messi, with only Luis Suarez looking like a true contender to the crown.
Messi still holds and edge over Ronaldo in every statistical category in 2016, but he also has the benefit of playing five more games for his club. But the truth of the matter is that Messi has not been quite the clutch player that Ronaldo has proven to be in the last few months.
Ronaldo's return to prominence
It all started on April 2, when Barcelona hosted Madrid in El Clasico. The former side was rolling while the latter was stumbling a bit. Both Messi and Ronaldo had been on international break with the Argentine playing decently for his country while Ronaldo experienced Jekyl and Hyde performances for Portugal.
But on that day, with the two superstars and rivals facing off, it was Ronaldo who seized the day as Messi squandered ever chance given to him. It was Ronaldo who scored a huge goal with only 10 men on the pitch for his side and gave his team a 2-1 win.
A few days later Madrid lost 2-0 against Wolfsburg in the Champions League with Ronaldo a shadow throughout.
But a week later he came out and said that his team would have a "magical night."
He played the part of the wizard scoring three goals and playing with a determination that few had seen from him all season.
A few days later Ronaldo scored a goal but provided assists on a few others, giving Madrid a 4-0 win over Eibar and he continued that streak through until picking up a slight injury this past week.
Meanwhile, Messi struggles
Meanwhile, Messi toiled with Barcelona, watching his team drop points in four straight La Liga games, relinquish the top spot in that competition and get booted out of the Champions League. During that run, Messi scored one goal, but was far from effective, often thrusting himself into the middle in his attempts to change the world.
But he failed.
While he was huge in Barcelona's 8-0 win over Deportivo La Coruna, his team could very well wind up with no trophies this year after being the favorites to win another treble.
Of course there is still a lot of soccer to play, but Ronaldo has completely reversed the public opinion, making this a two-man race for the ninth straight year.
ARTICLE BY: LATINPOST.COM